Home Theater Seating Accessories
Completely customizable seating, incorporating a variety of specialized one-of-a-kind accessories, provides the tools to truly design your home theater. If you can imagine it... we can build it.
Mechanisms & Motorizations
Motorization is available on these mechanisms: Reclining, adjustable seat height (8-10" range), lifts, 1st class tray tables, retractable touch screen, lumbar support, adjustable headrest (4" range), articulating headrest, press backs, massage and warming and hide-a-beds. Swivel & Rocker mechanisms also available.
Pocket & Retractable Arms
The pocket arm is a fully upholstered stationary housing between the backs of two chairs that accepts the retractable arm. Whether the arm is up or down the seating looks like a sofa with a continuous back cushion and no gaps between the backs
Cup Holders
A variety of cup holder choices as well as finishes are available. Concealed cup holder; Front Access cup holder; Tilt-Out cup holder; Lighted and Cooling cup holders;
Finishes include: stainless, brass and powder coating to match the upholstery and wood stains available.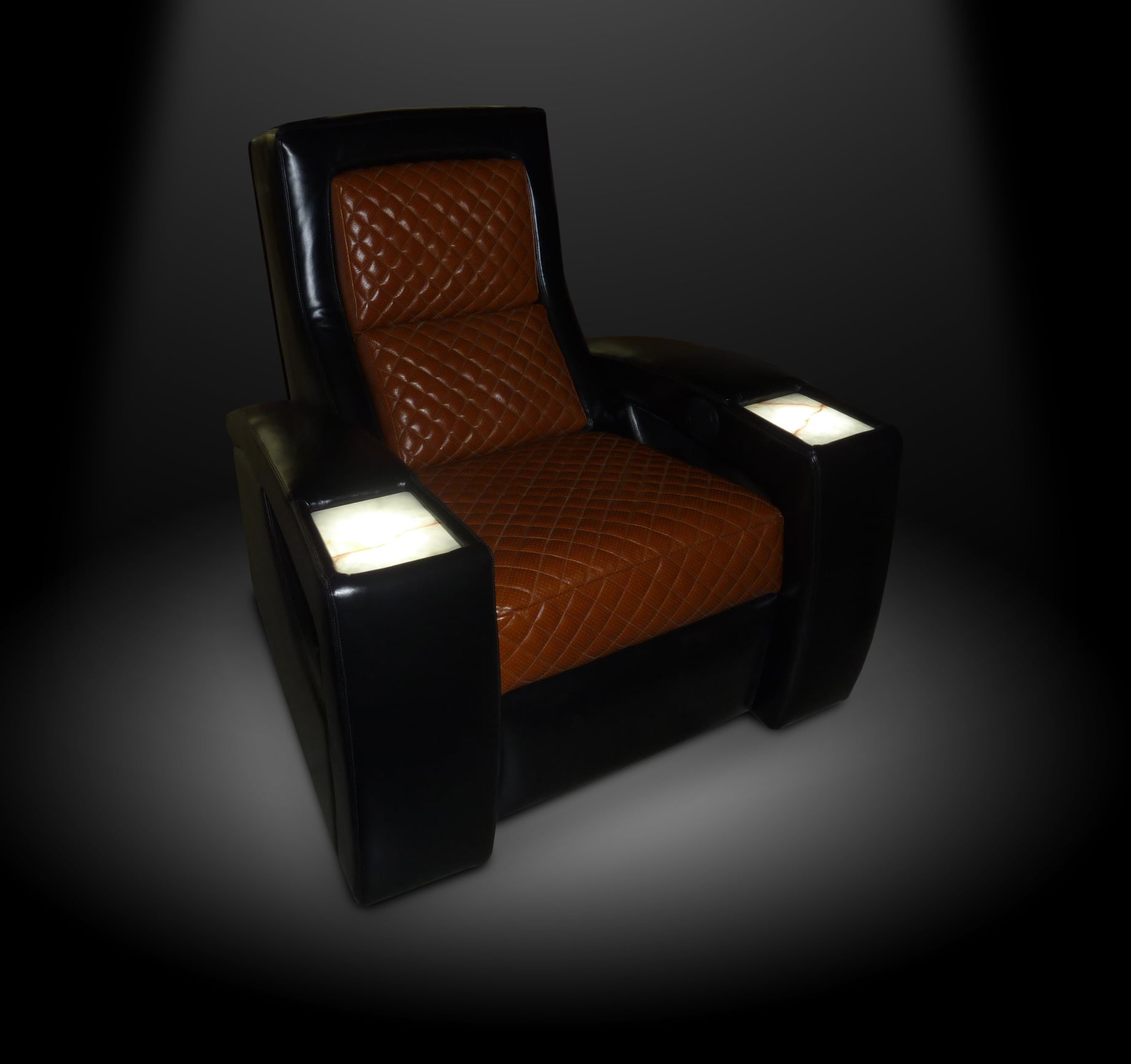 Tray Tables & Inset Table Tops
A nice flat surface can be handy and a tray table is the solution. Many options are available from a removable tray that fits into your cup holder to the popular 1st Class Motorized Tray Table that is concealed within the cavity of the arm so when not in use it is out of sight. It is easily retrieved by lifting the arm cap and activating the motorized lift mechanism. Work on your computer or have a meal while watching your movie
Touch SCreen Mounts
In this day of tech and gadgets you need easy access to your controls. Fortress offers a number of ways to include those elements into the design to create a seamless look and feel.
Motorized Retractable Touch Screen
Recessed Touch Screen Mounts
Storage
Creative storage options to make every inch count. From armrest to ottoman, hinged opening or sliding drawers; there are plenty of ways to create space.
Dress Elements
It's all in the details... Adding small touches like nail heads, embroidered logos, piping, contrasting stitching, diamond stitching, fringe, tufting and custom wood feet, are just a few ways to dress up your unique design.
Other Accessories
Data and Power Port Integration, aisle lights, reading lights, table tops, ottomans, lumbar pillows, and. so much more